'Lines of Inquiry' Exhibition

A curated exhibition about inquiries that encourages critical thinking among students and visitors.
/Jan-March 2020
/Commissioned by the National Institute of Design
/Role: Research, Curation, Project Management, Content Development, Design + Art Direction, Publication Design, Digital Archive.
/Core Team: Tanishka Kachru, Sucharita, Yatharth.
/Design Support: Rahul Girish, Chandik C & Aniruddh Verma

Overview ︎

We were invited to reimagine, through an exhibition, the shifting design pedagogy at NID.
How might we look at design, by moving beyond disciplinary boundaries?
In a world of fake news, conflict, intolerance, dehumanised relationships, and faced with human-made ecological disasters, designers seek to play an important role in visualising alternative future narratives that provoke, question and seek collective action to realign socio-technical systems for transition to the future or, as anthropologist Arturo Escobar's work points towards, "channeling design's world-making capacity towards ways of being and doing that are deeply attuned to justice and the Earth."
"A line of inquiry is a set of questions that you are trying to answer through design + creative practice. They are questions that you might already have a partial answer to but that you would like to pursue further."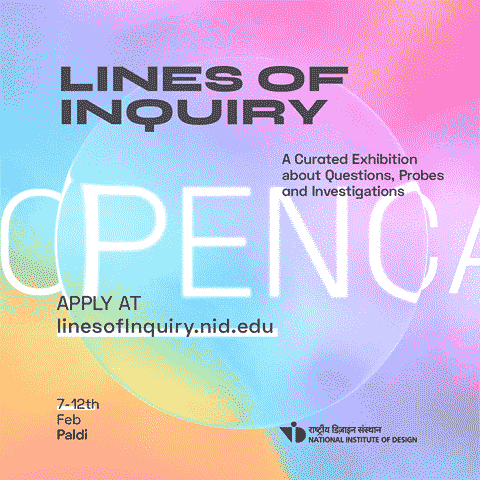 In the spirit of objectivity, we sent out an 'Open Call' to all current students to talk about and reframe their projects as inquiries.
After collecting a massive 174 qualifying entries, we curated 100 and designed a narrative that would help us in telling macro and micro stories about these Inquiries that the participants had undertaken.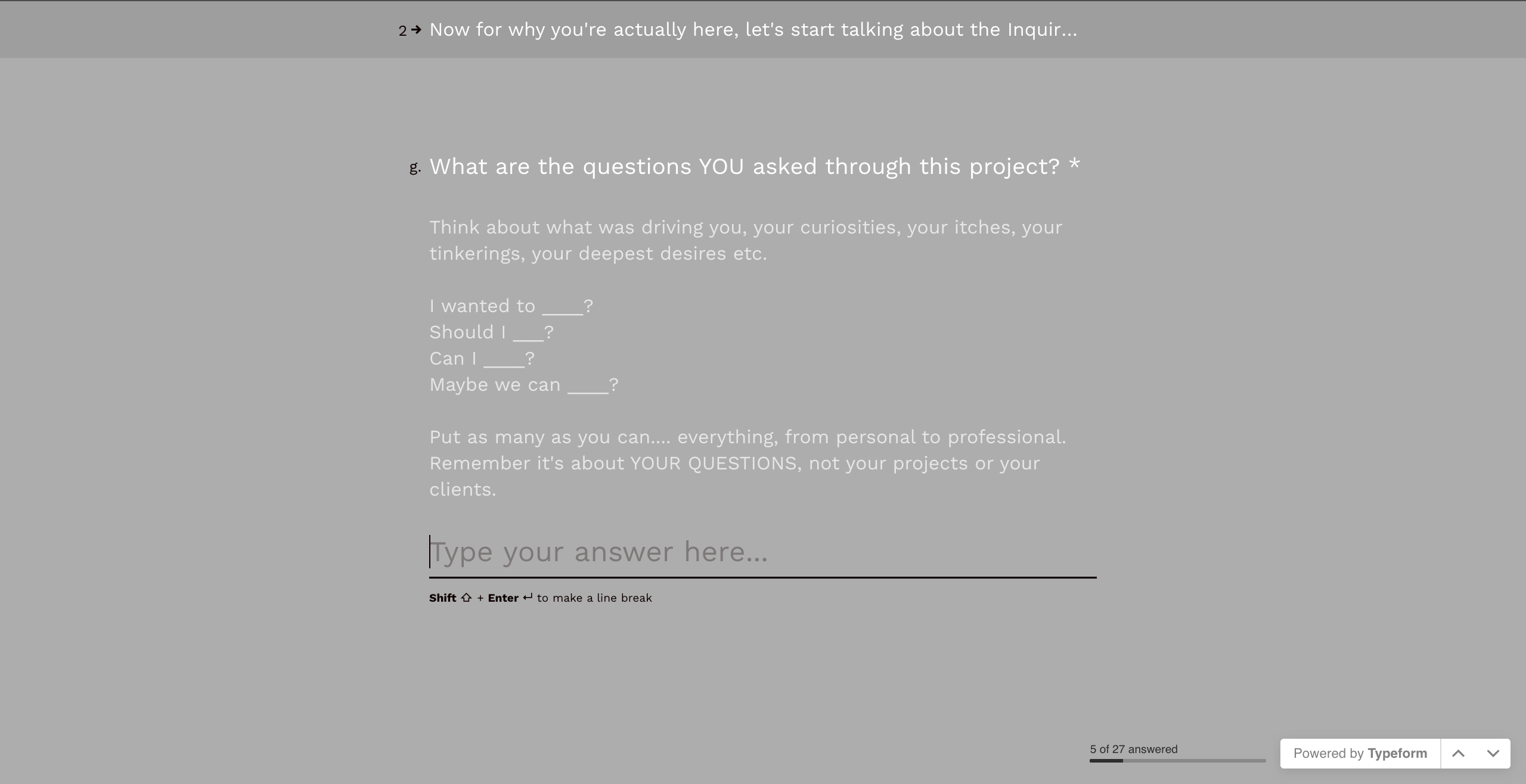 ︎︎︎ A few snippets from the open call or 'Reframing Tool' which has now been adapted for use in the classroom at NID.
After analysing the data, collected we created a framework that would help in building a narrative structure that would tell for the stories of all the inquires. What drives students to pursue projects? This framework has four lenses.

This has further developed into a tool to re-look at existing and future projects and inquiries pursed by student at NID.

︎︎︎
1/Introspective:
about self, identity, belonging, etc.


2/Practice: about design, its role, tools, ethics, etc.

3/Subject: about the designed, stakeholders, field of study, etc.

4/Systemic: macro questions around complex system like patriarchy, environment, technology, etc.
The curation materialised as a week long show at the Convocation 2020 of NID.

A publication, A digital exhibition and a modular travelling exhibition. The curation and its pedagogical intervention were introduced to the governing council, faculty, first year students, esteemed alumni and young school children through guided tours. Further, in the following semester, the tools developed for the exhibition have further been adapted and re-introduced as an aid for students.